Choco Orange Rum
CHOCOLATE ORANGE RUM
RUM INFUSED WITH COCOA HUSKS AND ORANGE ZEST
ABV: 40%
VOL: 50cl/20cl
TASTING NOTES
Nose
Rich Dark Chocolate with a burst of juicy ripe Orange
Taste
Velvety blend of bittersweet chocolate and vibrant citrus
Winter Spiced Rum
WINTER SPICED RUM
RUM INFUSED WITH WINTER SPICES
ABV: 40%
VOL: 50cl/20cl
TASTING NOTES
Nose
Inviting blend of Cinnamon, Nutmeg, and Vanilla
Taste
Robust spice with hints of clove and treacle
Coconut Rum
COCONUT RUM
RUM INFUSED WITH COCONUT
ABV: 40%
VOL: 50cl/20cl
TASTING NOTES
Nose
Toasted marshmallow & chocolate coconut
Taste
Warm, toasted Coconut, Juicy Raisins
Chocolate Rum
CHOCOLATE RUM
RUM INFUSED WITH DOMINICAN COCOA HUSKS
ABV: 40%
VOL: 50cl/20cl
TASTING NOTES
Nose
90% Dark Chocolate truffles, vanilla
Taste
A perfect blend of bitter Chocolate and sweet tonka bean
Coffee Rum
COFFEE RUM
RUM INFUSED WITH BRAZILIAN COFFEE BEANS
ABV: 40%
VOL: 50cl/20cl
TASTING NOTES
Nose
Steam from a freshly brewed pot of coffee
Taste
Smoky Cacao, Chocolate Orange and Salted Caramel notes
Spiced Rum
SPICED RUM
RUM INFUSED WITH NATURAL SPICES
ABV: 40%
VOL: 50cl/20cl
TASTING NOTES
Nose
Ginger Bread and Mulled Wine
Taste
A spice drawer of Clove, Cinnamon, Ginger, with a burst of fresh orange peel
Pineapple Rum
PINEAPPLE RUM
RUM INFUSED WITH ORGANIC PINEAPPLE
ABV: 40%
VOL: 50cl/20cl
TASTING NOTES
Nose
Green Banana, Fresh Sliced Pineapple
Taste
An almost Sherry sweetness, with some mellow toffee and subtle caramel notes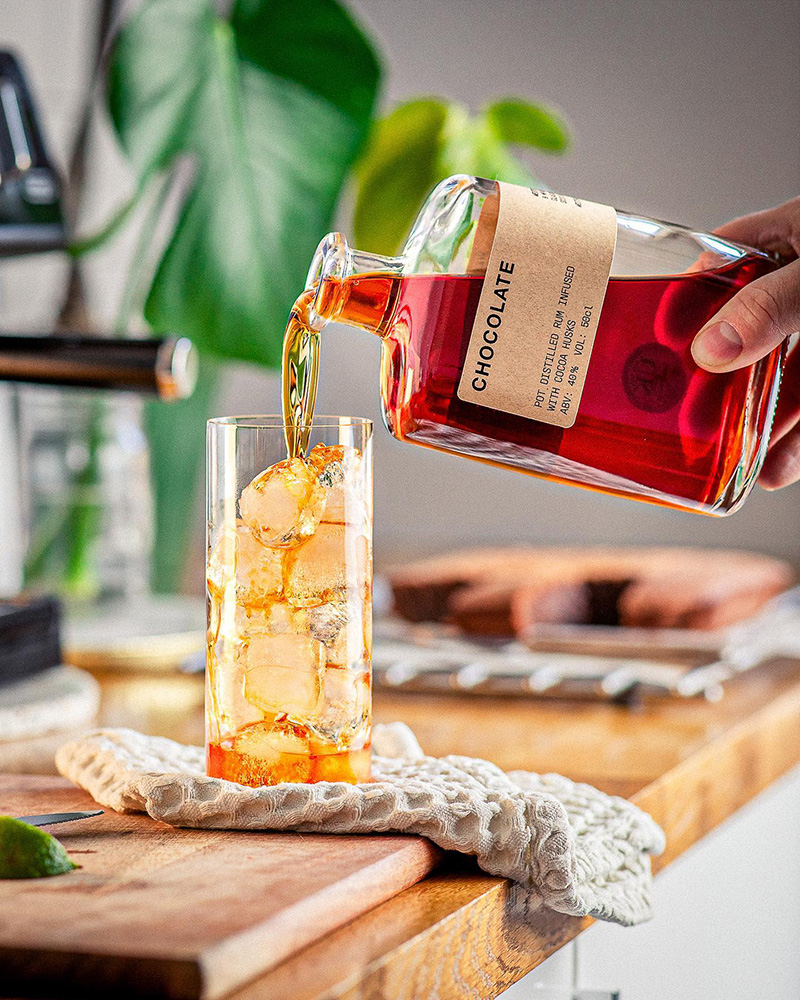 We're Wester Distillery, Glasgow's first rum maker in over three centuries.
You might think that gives us plenty to shout about, but we don't believe in fancy. For us it's all about the graft because we believe everyone deserves a decent spirit.
It's why we put all our efforts into what we do best. And why we let our award-winning rums do all the talking.
Just good, honest, no-nonsense spirit. Made exactly as it should be.
Authentic Rum for Authentic People
What our customers are saying